The Algarve, Portugal Takes Top Honors for the 4th Year In A Row…
Portugal's Algarve remains the best place in the world today to retire overseas.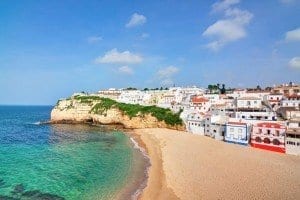 The Algarve has got everything the would-be retiree could want—great weather and lots of sunshine year-round; an established and welcoming expat community; top-notch medical facilities and health care; an affordable (that is, downright cheap) cost of living, especially when you consider the quality of life on offer; undervalued and bargain-priced property buys, including right on the ocean; endless opportunities for fun, adventure, and enjoying rich, full, varied days out-of-doors; a great deal of English spoken thanks to the longstanding British presence; First World infrastructure; a new retiree residency program that rolls out the welcome mat for foreign pensioners; and easy access both from the United States and to and from all Europe.
The soaring greenback helps. At the current rate of exchange between the euro and the U.S. dollar, our figures show that a retired couple could live comfortably on the Algarve coast on as little as US$1,700 per month, give or take.
You could rent a two-bedroom apartment in this region for as little as US$720 per month. Or, if you were so inclined, buy an Algarve pied-à-terre of your own today for US$150,000 or even less. Portugal's property market remains nicely undervalued, and, again, if you're shopping with dollars, you've got super-charged buying power right now.
Source: https://www.liveandinvestoverseas.com/best-places-to-retire/